Hi friends! Here's an article recently published by one of my alma matters, Guilford College in Greensboro, NC, featuring me along with other graduates who have integrated music into their careers and life.
Meet Guilford's Music Makers
One's a Grammy-award nominated hip-hop artist. Another plays the trumpet into the small hours off Bourbon Street. Meet six Guilfordians who took their love for music and turned it into a career.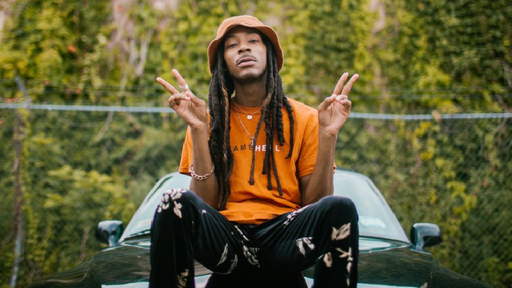 Beau Young Prince's life growing up and at Guilford find their way into his music.
Show time. The house lights dim. A bright lantern pierces the dark, bathing the stage in a pale blue almost too perfect for this world. That's fine with the audience. It is Friday night in Washington D.C., and the crowd is expecting to be carried away to somewhere else. Beau Young Prince '13 knows this. He's on stage, the one with the obligatory hip-hop cap, the one with the mic in a gloved hand, the one with the bouncing, shoulder-length dreads, and Grammy-nominated song in his set list.
Quick-fast, the audience pulls out their cellphones, transforming Songbyrd Music Hall into a starry cosmos. All to say, homie looks every bit the hip hop superstar he is.
Beau's come a long way since those impromptu performances at The Greenleaf in the basement of Mary Hobbs Hall and Serendipity spring gigs. Hip hop artists are, as a professional class, gifted at the art of self-flattery. Beau, by all appearances, has reason to swagger.
After graduating from Guilford with a degree in Criminal Justice, Beau went home to D.C. with another career in mind. He added Prince to his last name because he wanted to be among his hometown's elite hip hop stars. A brazen title to try to claim, but so far he's living up to his royalty. He signed a deal with Def Jam in 2018, moved to Los Angeles, and contributed songs to everything from Spider-Man: Into the Spider-Verse to Madden NFL 20. The former, "Let Go", earned Beau a Grammy nomination and, last summer, a double-platinum plaque.
More importantly, and the part that excites Beau and the rest of the hip hop world, is his unshaken belief he's got even further to go as an artist. Define Beau's music at your own peril. His beat is a blend of hip-hop and R&B with a whiff of rock and country to name just a few styles. "I think my music's fun, it's upbeat," says Beau. "But I tell people to listen to my music and tell me what they think it is."
Where lesser artists might leave those genres to stand on their own, Beau's voice threads them together seamlessly. He raps his financial, carnal and pharmacological accomplishments like many hip hop artists, but he's just as comfortable, vulnerable even, sharing other parts of his life, including growing up in Southeast Washington and, later, attending Guilford. His platinum song "Let Go" pulls from a dark period of his life when a cousin and uncle both died of natural causes.
But he's just as easily influenced by brighter times, like weekend parties at the old apartments at Guilford or spring days just riding a bike across campus. Bike rides and a college degree don't exactly scream street cred where hip hop is concerned but Beau is not most hip hop artists. "Guilford is part of who I am," he says. I remember it being so diverse.
It opened my eyes, which opened my music. People that I normally wouldn't have chilled with back home I was like hanging out with on weekends. Now those experiences find their way into my music."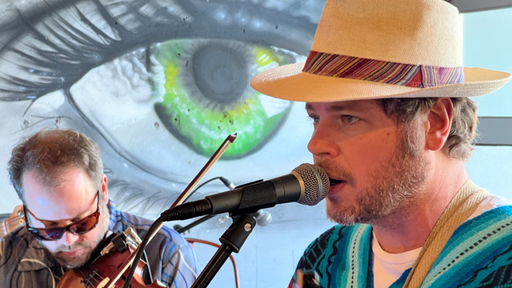 Andy Eversole: Have Banjo, will travel
Stop right there. Andy Eversole '02 has been playing banjo for 25 years. If you do the math, that's… 25 years of banjo jokes. So chances are he's heard them all.
Like the one about banjo players spend half their lives tuning and the other half playing out of tune.
Or what do you call a good musician at a banjo contest? A visitor.
"Heard them all," he says with a strained laugh. "I mean, some of them are funny, but to me they're funny because they're so far from the truth."
These days Andy is getting the last laugh. An accomplished banjo player since he was a freshman at Guilford, Andy juggles his days as a licensed consulting hypnotist and professional banjo player.
He plays in and around Greensboro, but he also takes his act on the road. And by road, we mean China, India, Brazil, Peru and, earlier this year, Mexico.
The backstory: As a student at Guilford, Andy took part in the College's Study Abroad program, spending a semester in China. "That really opened my eyes to the world and other cultures. I wanted to go back," he says.
He did in 2016, the first stop on his own Banjo Earth tour. The idea behind Banjo Earth is to bring together local musicians to collaborate with Andy on recordings. An album is created in every country he visits. Five countries later, Banjo Earth is only growing in popularity, as Andy and his crew document different cultures and music. "It's a lot like Anthony Bourdain," he says, "but instead of food there's a banjo."
The first time he heard a live banjo was when he was 13 and walking down a street in Boone, N.C., when he came across a man in a floppy hat playing. "I'd never heard anything like it in my life," he says.
When he turned 16, Andy got a banjo for Christmas. He took formal lessons, but mostly learned on his own at Guilford, where he played for the Quakers' golf team. When he wasn't on a golf course he was playing weekend festivals like Merlefest in Wilkesboro, N.C., one of the largest annual folk festivals in the South.
"I would just go, camp out, stay the weekend and play around campfires," he says. "More than anything else that's how I learned to play."
Andy says his Philosophy degree helped him learn how to think. "But let's face it," he says, "you're not going to go into a high-ranking position as a professional philosopher so the music really helped me out with bills."
In recent years, Andy and others have reclaimed the banjo's rich heritage. It's lately enjoying an upsurge in pop culture, where it exudes a positive heartland vibe. (Banjo) still isn't for everyone, but I love playing," he says.
"And to make something of a living at it? All the better."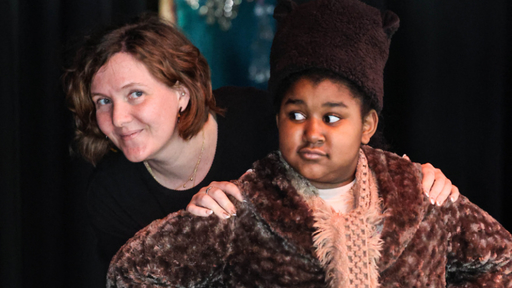 Helen Gushue '11 fell in love with music as a kid. She's paying it forward to other kids.
It takes a village to pull off "Shrek Junior, The Musical." What, you think spiral staircases and castles appear out of thin air? Maybe in fairy tales, but at Henry H. Houston Elementary School in
Philadelphia, staircases and castles require hammers, saws and elbow grease. There are costumes to sew and fairies — so many fairies! — to feed. And have you ever choreographed a musical whose cast is packed with kindergarteners through eighth graders? So, yeah, it takes a village.
And a director, too. Someone who can keep a stern eye on those eighth-graders (because even ogres and princesses have hormones) and possess a big heart for tired, cranky kindergarteners at the end of a school day.
Five days a week, music teacher Helen Gushue '11 — Miss Gushue to everyone who roams Houston's hallways — walks into this chaos with a smile. And why not? Like many of her students, Helen fell in love with music early in life, too. First at Duke Ellington School of the Arts in Washington, D.C., where she became an accomplished saxophonist, and later Guilford where she's convinced the College helped leverage her love of music into a sustainable career in music.
Helen actually transferred to Guilford after a year at Indiana University. Too big, too competitive.
Guilford was everything Indiana was not. "There was this built-in community and feel at Guilford from the start," she says, "everyone was super welcoming."
Much is made of Guilford's open and diverse student body. Helen says that ethos seeps into its teaching. "Guilford teaches you to be a creative thinker and that's what I want for my students as musicians. I try to encourage that creativity. I like the idea of allowing the kids to guide their own learning, and not for the teacher to hold their hand through it. Music shouldn't come from someone telling you what to play or how to play, music has to come from you."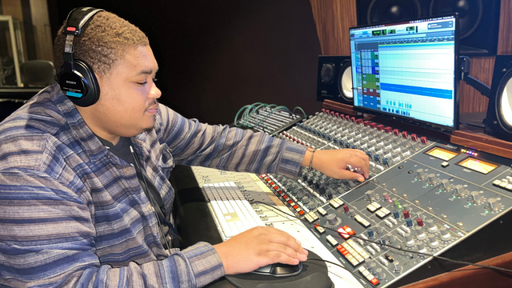 Phillip Williams '20 bring the beat to life
Years from now, when Guilford's fledgling Music Production track has grown into a wildly popular program for students, they'll have Phillip Williams '20 to thank.
What's that? You've never heard of Phillip? That's OK. The College's first graduate with a recording track gets a lot of that. Such is the anonymity that accompanies a recording engineer. Oh, sure, some of hip hop and rap's biggest artists know Phillip. Artists like Lil Yachty, Blocboy JB, Lakeith Stanfield, Playboi Carti and others. It's Phillip's job to keep them center stage while he and his technical skills work just outside the spotlight.
There was a time Phillip thought he'd like to bask in that warm glow of fame himself. Then he started dabbling in the technical side of music and found his passion.
These days Phillip is more than just a recording engineer at Blue South, a recording studio in Atlanta.
He's a teacher, therapist, cheerleader, and coach – whatever hat he needs to wear to inspire his clients.
When an artist comes in with a beat in their mind, it's Phillip's job to bring that beat to life. "I make the music sound good, make sure the session flows smoothly," he says.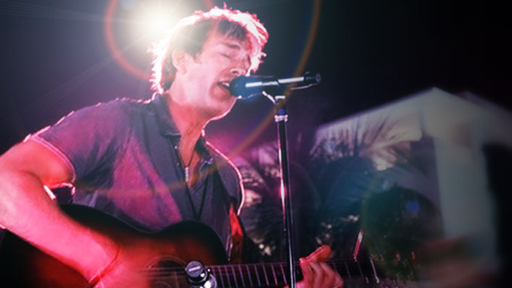 For Chris Chickering '92, music is his inspiration for others
For as long as he can remember, Chris Chickering '92 has been drawn to a guitar. It was only several years and iterations into his career that his musical and professional worlds melded. Now they are inseparable.
Chris was 13 and living in Connecticut when a friend started playing "Proud Mary" on his guitar. The big wheels started turning. "I was obsessed with learning how to do that," he says. "Once I started playing my guitar pretty much went with me everywhere."
Including Guilford. When the College asked Chris what he was looking for in a roommate he didn't hesitate. "I told them to just put me in a room with guitar players."
Chris' freshman year was spent in a Bryan Hall suite with seven other guitar players. "I don't know about the other students around us, but we had a blast," he says.
These days Chris blends his work as a therapist with his passion of music effortlessly, offering doses of lyrical advice that centers on three concepts.
"Hope, healing and empowerment," he says. "I didn't always live my life guided by those ideas, but that's how I try to live my life now. Every single time I sit down for a writing session, I make sure the songs are centered on those concepts. That's the message I want to bring for others. That's my journey."
It's a journey that, shortly after Guilford, started as a firefighter before veering to sales and later as an agent for some of the biggest personal and professional growth speakers in the country. Speakers like Brian Tracy, Bob Proctor and Deepak Chopra.
Eventually Chris, an English major at Guilford, went back to school and received his master's in counseling. His practice specializes in solution focused brief therapy, an approach that incorporates
positive psychology principles and practices that help patients change by creating solutions rather than focusing on problems.
"You keep focusing consistently on your problems you're going to feel like crap," he says, "I want to help people see what's going right in their lives and focus on that."
His music — more than 120 songs and five albums — reinforces that positivity therapy. So do the events where he plays. Bars are out. Venues that promote spiritual or personal growth are in. "That," he says, "is what's meaningful to me."
While the rest of us sleep, Ben Matlack '15 is hard at work in New Orleans' nightclubs
In the early morning, New Orleans' French Quarter is quiet. At times you don't spot another soul except the workers cleaning up the aftermath of the nightly party that is Bourbon Street. As day turns to night, music envelopes the area and people crowd the sidewalks after work. That's when Benjamin Matlack '15 shows up for work.
Benjamin has an unconventional and demanding schedule playing into the small hours of the morning for five different bands. And don't even get him started on Mardi Gras where it's jazz 24/7.
But all that jazz – is it really work? Not in Benjamin's eyes or ears. "I'm so grateful to be doing this full time without needing a day job," he says.
Ben plays on Frenchmen Street, where revelers can throw beaded necklaces and easily hit a dozen well-known clubs.
The music he makes comes naturally, a tribute to Benjamin's roots. His grandmother was born in Cuba. His grandfather is from Puerto Rico. "I grew up listening to a lot of Latin music, which is very trumpet-centric," he says.
It didn't take long before a horn was in his hands. He was just 7 years old. "I was lucky enough that my parents got me a rental trumpet before it was offered in school, so I always had a step up (on other students)," he says.
To see this article on Guilford College's site, click here